Nude female on fiberglass with newspaper.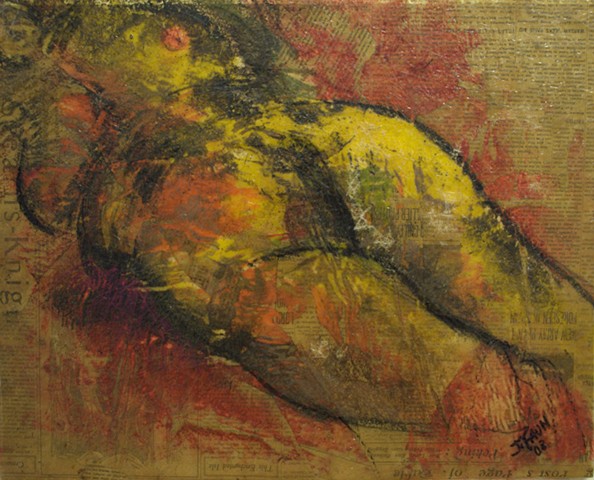 AffordableArtByFaunManne
Faun Manne
Mixed Media
Artist


Faun's work over the last several years has focused on exploring figurative
narrative while utilizing mixed media in order to create texture in painting and
drawing. Color and form translate content, thereby revealing the multiple
facets of female identity in the context of the sacred and the secular.


While some work is a commentary on the experience of memory, social
relationships, sexuality and fantasy, other work focuses on the nature of the
deity, culture and mythology.


Experimenting with the application of paint, ink, charcoal, crayons, poster
markers, fabric, antique papers, fiberglass, acrylic , oil and collage, Faun engages
in a visceral and tactile relationship by using medium to communicate her deepest
feelings. One could say Faun speaks through her work by auto-biographically sharing her "story". Faun's goal is that through sharing, her audience will recognize the common thread that unites us all.


As a former Fashion Designer,Faun received an Associate in Applied Arts from The Fashion Institute of Technology (NYC,NY.) and a Bachelor in Fine Arts from The Otis Art Institute of the Parsons School of Design (LA.,CA.) After fifteen years working in the fashion industry Faun transitioned into a career in the arts, Faun has attended classes in Chicago at Lillstreet, The Palette and Chisel and The School of the Art Institute of Chicago. Faun received a Certificate of Fine Arts from The Art House. While attending The Art House she participated in seven gallery shows with peers. Faun also had her first solo show at Elston Arts (Chicago).Faun received a Certificate of Visual Arts from The Hyde Park Art Center in partnership with The Graham School at the University of Chicago in 2016.She participated in two gallery shows at The Hyde Park Art Center Faun's work has been chosen to participate in many juried shows throughout the United States.


Most recently Faun received an Master of Fine Arts from the School of the Art Institute of Chicago in 2019. She participated in a group show at the Sullivan
Gallery
In December of 2019 Faun participated in the Aqua Art Miami.
Faun participated in a solo show at Womenswork art gallery in New York in July 2020.
Faun currently is showing at the Anita S. Wooten gallery at Valencia College in January 2021.
Faun also participates in many online galleries such as ArtPal, Fine Art America, OnlineGallery.Art and Saatchi.
All work sold on this website does not include shipping costs. Shipping costs will be billed to buyer.